Meeting the Needs of All Learners
This course aims to provide Senior Leaders and those with a desire to drive school improvement in Wellbeing with the guidance and tools to do so.
The training consists of PowerPoint, several videos, quiz, audit tool and checklists to download.
---
Target Group: Nurture/Wellbeing Practitioners, Senior Leadership Team
This Professional Development course will cover:
What do the six principles of Nurture look like in practice?
What does a Nurture group/class environment look like?
How can improvement be facilitated?
How can assessments inform performance management?
How can data be used for target setting?
Course Presenter: Angela Coates
EARLY YEARS / WELLBEING - Angela Coates is an Independent Educational Consultant and part time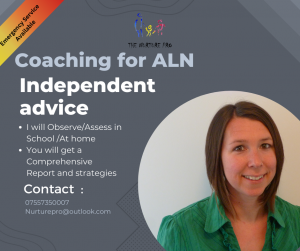 Teacher with over fifteen years of experience working in the early years and primary setting. Angela has spent the last eight years in the Nurture Unit
where she developed a reputation for successfully managing the most challenging classes.
Angela Coates' role as a part of running the Nurture unit includes advisory work for Mainstream Schools. Pupils in her care attend both settings. Therefore, she has experience of overseeing the fusion of Nurture and Mainstream classes.
Angela continues to work as a classroom practitioner 2 days a week but now she runs training courses for schools/parents/educational bodies etc. This allows her to keep her finger on the pulse and remain up to date with current working practice.
Angel
a's main degree was in Language and Communication, She is an NGN (Now Nurture UK) qualified Nurture Teacher and level 3 OCN Forest School practitioner.
Angela is passionate about Nurture and continues to support and guide teachers in the Mainstream and Special Educational settings to successfully deliver the Nurture Curriculum.
For ALN coaching and independent advice, contact Angela Coates directly: 07557 350007
email: nurturepro@outlook.com
Course Location: Collective Learning Digital Platform
Online Courses
Train all your staff, whenever it suits them and you!
Our ONLINE courses can be accessed whenever and wherever it best suits your staff and setting. Once purchased you may view them any number of times. The majority of our online courses come as a set of training sessions along with all the resources and printouts that would usually be handed out on our usual training courses.  A few of our online courses have been professionally filmed live, and a some are expertly presented voice-over PowerPoints.  We hope the mix of pre-recorded lessons, digital presentations, films and voice-over PowerPoints still carry a little of that personal, down to earth feel Collective Learning courses are known for.
When ordered a link will be sent to the email address you've provided, which gives you unlimited access to our digital platform.