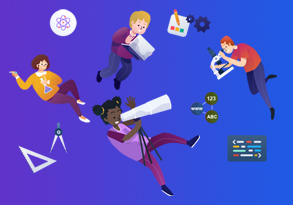 Science & Technology AoLE Online Course – Gareth Morgan, Karen Mills and Nerys Tudor Jones
This Online course costs £400 plus VAT. This entitles the purchasing school unlimited access for 6 months.
Are you ready to implement the new Science & Technology AoLE?
What changes will you need to make?
This course will provide practical strategies for auditing your current provision and ensuring effective implementation of the new curriculum.
---
Getting ready for the new AoLE for science & technology
Identifying the important changes - what is the same and what is different about the new and old curriculum?
Unpicking and understanding the language of the new curriculum
Identifying the key knowledge and skills and making links to the four purposes
Identifying effective approaches in STEM teaching
Developing an action plan for implementing change back in school.
 What people say about this course...
"Wow! So much to digest. Today has been amazing. Clear explanations and expectations shared by all. I have gathered so much more information from today to take back to school, so that we get this right for our children and teachers. Thank you." Course delegate Oct 2019
"Great to hear common sense thinking and advice that helps us understand the new curriculum" -Teacher - Ysgol Santes Tudful, June 2019
"Great, informative course - I feel much happier now!" Teacher - Swansea, June 2019