Outdoor Learning in Primary School – SOUTH WALES (Cardiff)
"Sticks and stones may break my bones but worms will never hurt me"
Outdoor learning offers our children very special opportunities for play and exploration, real experiences and contact with their natural world.  
---
Target Group: Primary Teachers
Course objectives
provide regular opportunities for children to develop and practice literacy and other skills outdoors

plan, organise and assess learning as well in the outdoors as they do indoors

link curriculum coverage outdoors directly with what is happening indoors

ensure that all staff are well trained and confident in using the outdoors to support learning
One copy of the resource below is included with this course
Should you require additional copies of Karen and Cath's superb Outdoor Learning resource, they can be ordered and posted out to you. Furthermore, we offer this resource in both Welsh and English.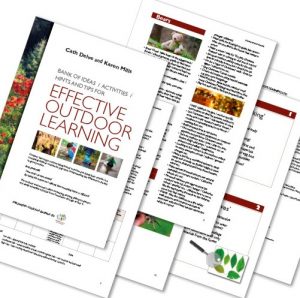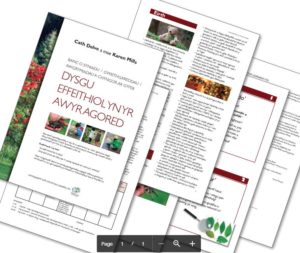 What people say about the Outdoor Learning course...
"Excellent ideas for furthering the organisation of my outdoor days. Ensuring more independence for the children and flexibility for the staff. Many thanks for a lovely informative day."  (Cardiff course delegate 18/03/19)
"Real life, honest discussion of issues we face and how to overcome. Excellent examples of quality activities and progression ideas. I feel inspired. Thank you" (Welshpool course delegate 20/06/18)
"Absolutely wonderful, will make a huge impact on my practice and at our school." (Cardiff course delegate 03/10/18)
Course Presenters: Cath Delve, Karen Mills
Cath Delve
FOUNDATION PHASE/ OUTDOOR LEARNING/ WHOLE SCHOOL ISSUES - 
Cath Delve provides training, guidance and support to schools and LEAs all over Wales. Her courses cover a wide range of topics such as creating independent learners, outdoor learning, pupil voice and well-being, raising the attainment of boys, progression in continuous and enhanced provision, planning and the curriculum, being an effective Foundation Phase leader, literacy, numeracy, creativity, assessment, raising standards through display, transition, moving towards the new curriculum, developing the role of support staff and the exemplary delivery of the Foundation Phase. Some of her initiatives such as 'Freaky Friday,' 'Igloo' and 'Messy Monday' have been implemented and used by schools all over Wales and into England. In addition to working for Collective Learning as a course provider Cath Delve is also an
independent educational consultant
working alongside many, many schools all over Wales to help them improve their environments, provision, curriculum, everyday practice with a view to raising standards and moving forward in every way.
Search for Courses
Karen Mills
SCIENCE and OUTDOOR LEARNING - Karen Mills is passionate about Science and Outdoor Learning. She was the Curriculum Improvement Advisor for Science and ESDGC for Newport CC, as well as the regional coordinator for ESDGC Schools Networks. She has an M.A. in Early Years Education. Karen was a member of the working party for DCELLS Science Curriculum 2008. She was co-author of Module 6 for the Foundation Phase and was a member of the WAG working group that developed 
ESDGC 'A Common Understanding for Schools'.
Search for courses
Course Location: South Wales
CARDIFF:
Future Inn, Hemingway Road, Cardiff Bay CF10 4AU
START TIME: 
8.30am coffee and registration for a 9.00am start
https://www.futureinns.co.uk/cardiff/